Introducing the Business Travel Performance Index: The Solution for Hotel Attachment
BTPIndex is a First-of-Its-Kind, Dynamic Index Quantifying the Success of a Corporate Travel Hotel Program
Enables Travel Managers and Their Travel Management Companies to Increase Hotel Attachment and Reduce the Hotel RFP Process from Months to Hours
Sabre RFP and Fare Audit Serve as Strategic Partners in Launch
DALLAS – August 23, 2018 – The Business Travel Performance Index (BTPIndex), a sophisticated, unique solution allowing travel managers and their travel management companies (TMCs) to transform hotel program management through increased attachment, officially went live today. Sabre RFP and Fare Audit are strategic launch partners in the BTPIndex. Existing Sabre customers who currently use the Sabre Hotel RFP product have first and immediate access to the BTPIndex, with additional customer channels to follow in the coming months.
The evolution of booking options for corporate travelers has created a fundamental challenge for travel buyers: off-channel hotel bookings and a resulting reduction in hotel attachment rates. Though travelers may be using the appropriate channels to book their flights, many are "going it alone" when they select their accommodations, reducing travel managers' and TMCs' visibility into their overall program spend. This makes it difficult for TMCs and their clients to monitor traveler compliance, take corrective actions, assess changes in the program and market conditions, and adjust the hotel program accordingly.
The BTPIndex aggregates and normalizes booking and spend data from all available sources, such as GDS data, credit card information, expense reports, negotiated rates and other performance indicators (customized to each company), to deliver an unprecedented level of insight into hotel attachment rates, and to allow TMCs and their clients to implement strategic hotel management. As a result, travel managers may see up to a 20 to 30 percent increase in hotel attachment, a 20 percent increase in savings, and a reduction in hotel negotiation time investment to just one to two hours per month.
"Travel managers have long felt they are flying blind when it comes to reconciling disparate hotel booking data," said Fernando Avila, president & CEO of BTPIndex. "Now, for the first time, travel management companies and travel managers can properly assess the true cost of business travelers not booking through the designated channels in real financial terms. We've created a powerful, dynamic, real-time solution to provide, in one single number, the information TMCs and travel managers need to increase hotel attachment. And it is only through the strategic combination of Sabre, Fare Audit and BTPIndex that this is now available."
Rande Gross, general manager of Business Travel Services at Sabre Hospitality Solutions, added, "Hotel attachment is a critical component of any corporate travel program, and not only because it generates savings – it is also one of the most effective ways to know travelers' itineraries and ensure their safety during all stages of their trip. Historically, it has been difficult for hotel programs to meaningfully measure attachment, but the BTPIndex simply delivers the information that travel managers need to do so effectively. We are excited to be the first technology partner to offer this to our customers as a component of Sabre Hotel RFP so that they can continuously improve their hotel programs and achieve an even stronger return on their investments."  
What the BTPIndex Delivers
The BTPIndex gives travel management companies and their corporate clients the ability to:
· Greatly simplify and reduce the hotel RFP process from 4 – 6 full months to a few hours a month
· Identify the value of booking through the designated channels and corrective actions to maximize the value
· Identify the cost of not booking through the designated channels
· Improve revenues as more bookings flow through designated channels
All of this is shown in real terms on a daily, per company basis and as an aggregated average of all corporate clients to deliver benchmark capabilities. Benchmarking data is updated on a continual basis and available on the BTPIndex website: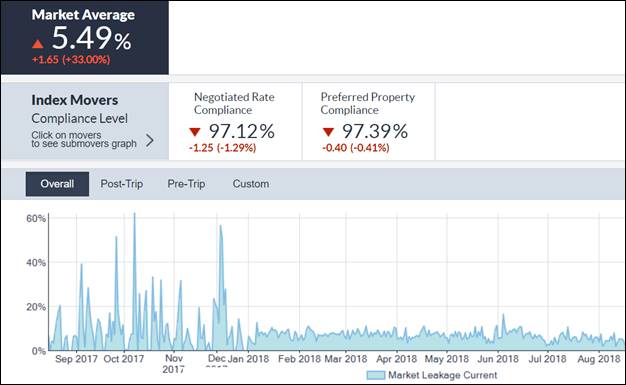 Sample of benchmarking data (Average Leakage per Room Night) as of August 13, 2018
"Accurate pre-travel data is at the core of better travel programs, and BTPIndex is now the gold standard when it comes to hotel program performance," said Marty Morrison, President, Fare Audit. "We are passionate believers in the power of the BTPIndex to transform how TMCs and their clients do business and achieve results through their hotel programs. This truly is the Next Big Thing in travel, and we are thrilled to be a strategic partner in making this powerful solution a reality."
About the Business Travel Performance Index
The Business Travel Performance Index is a unique hotel program management platform aiming to set the standard for how effective hotel programs are managed. BTPIndex aggregates and normalizes a wide range of hotel program data sources into one, easy to digest number that allows travel managers and their travel management company partners to drive a better return on investment from their hotel spending. BTPIndex operates in a strategic partnership with Sabre Hospitality Solutions and Fare Audit. More information can be found at www.btpindex.com.
# # #
Contact:
Meghan Warren
Sloane & Company
212-446-1897